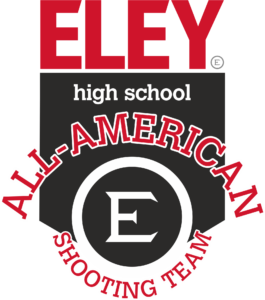 2020-2021 ELEY High School All American Team
Now in its sixth year, the ELEY High School All-American (EHSAA) Program celebrates the scholastic and athletic achievement of the top 10 high school smallbore and air rifle shooters across the United States.  Since its inception, the EHSAA has identified the most outstanding scholastic rifle shooters in the country, who have gone on to NCAA programs, as well as membership on the US Team and, even the Olympics!
Eligibility criteria includes being an American citizen and a full-time high school student with a cumulative GPA of at least 3.0.  Nominated student athletes must fire a minimum of three scores from a variety of national-level shoulder-to-shoulder matches and a per shot average is then calculated from the scores submitted.  The high scoring athlete for each discipline receives, in addition to a certificate and EHSAA challenge coin, half a case of ELEY Tenex, batch tested at our Winters, TX test facility.
A total of twelve athletes, including five seniors, who have since gone on to compete at the NCAA level, were amongst the outstanding rifle shooters recognised for EHSAA honors from the 2020-2021 school year.
Though Covid played havoc with match opportunities this past year, the resiliency of our nominees demonstrated their love of sport and dedication.  And, although the cancellation of the 2021 USA Shooting National Championships prevented us from our regular venue for presentation, ELEY has chosen to recognize the EHSAA Class of 2020-2021 through their own individual profiles, said ELEY's Competition Development Manager, Michele Medige.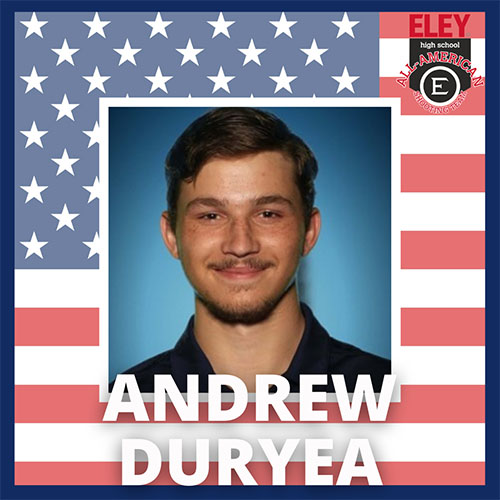 Andrew Duryea
Air Rifle ELEY High School All American Team / Smallbore ELEY High School All American Team
Class: 2021
Hometown:  Crossville, AL
Highschool:  Rosewood Academy and High School
Member of:  Calhoun County Hawkeyes
Colligate: currently a freshman on the Murray State University Rifle Team
Andrew discovered the shooting sports at age 12, while attending a Boy Scout Camp.  Soon after, he joined the local shooting club and started shooting competitively.  From 2014 – 2018, he was a member of Shelby County Shooting Sports Club.  Then, in 2018, his family relocated and he became a member of the Calhoun County Hawkeyes until graduation from high school.  Both programs were 4-H Clubs.
A 4-H member since 2014, he has been an active member of Fraternus since 2015. 
"The time and effort each of my coaches and mentors has invested in me is appreciated beyond measure.  I am especially indebted to Matt Carroll, Johnny Ellis, and Jayme Shipley."   
Aside from shooting, Andrew is passionate about his faith, being Pro-Life and his love for the Traditional Latin Mass.  
He is also an avid Braves, Packers and Alabama football fan.
Fun fact: "I am a big supporter of the mullet and can be pretty easily spotted on the line."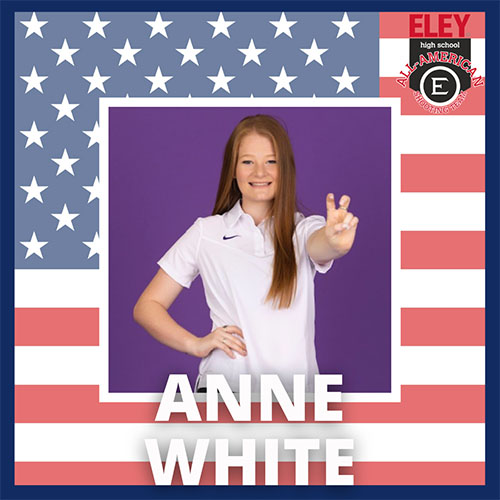 Anne White
Air Rifle ELEY High School All American Team / Smallbore ELEY High School All American Team
Class: 2021
Hometown: San Antonio, TX
Highschool: Churchill High School
Member of:  Texas Hill Country Rifle Team
Colligate: current freshman on the Texas Christian University Rifle Team
Anne got her start in shooting through her local 4-H program when she was 8.  Then, after attending an NRA Rifle Camp at Camp Perry Ohio the summer before her 8th grade year, she became more competitive.  As a member of Texas Hill Country Rifle Team, she contributed to their three national titles and two national team records.  That is one of her proudest shooting moments, along with her individual success in winning the American Legion National Championship Final. 
Currently a member of the Texas Christian University Rifle Team she has been blessed with exceptional coaches both prior to and at TCU, including; Jayme Shipley, Armando Ayala, Karen Monez, and Hannah Black.   They have helped her focus her shooting goals on making the National USA Shooting Team and compete at the NCAA National Championships.
Community is important to Anne and she is a frequent volunteer.  As a part of the Kim Bourquin Modeling Team in high school, she did many volunteer projects including helping the San Antonio food shelter and making blankets for the children's hospital. Her main community of interest, however, is the deaf community.  First becoming involved by taking four years of ASL in high school and having many deaf and hard of hearing friends, she is majoring in Deaf and Hard of Hearing Studies and is passionate about the Deaf culture and the awareness, or lack of it.  She is also involved in a church group near campus.
Fun fact: "I missed the great Texas ice storm because I was on a beach in Florida training for Junior Olympic Qualifier by training my balance on a surfboard with Jayme Shipley."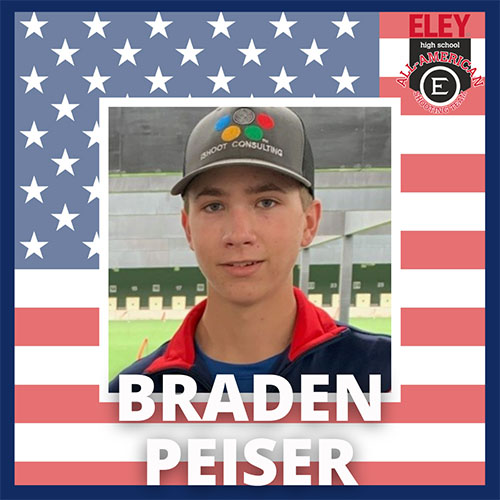 Braden Peiser
Smallbore ELEY High School All American Team
Class: 2023
Hometown:  San Angelo, TX
Highschool: Wall High School
Member of: USA Shooting National Futures Team
Braden seemed destined for shooting greatness; he began shooting not long after he could walk, then started shooting in 4-H at 8 years-old, and shot his first USA Shooting match at 11.  Now in his 6th year with the Texas Hill Country Rifle Team, he also trains with Jayme Shipley and credits her with being "a big part of getting me to the scores I shoot."
With a host of shooting accomplishments, what he is most proud of is reaching the podium twice with his teammates at the Junior World Championships.  Looking forward, he hopes to make finals in both events and make open finals in smallbore.
Quite involved with FFA, he is vice president of his FFA chapter, competes on his FFA conducting and quiz teams in the fall and range judging and land judging in the spring.  He is also the parliamentarian for his school's student council.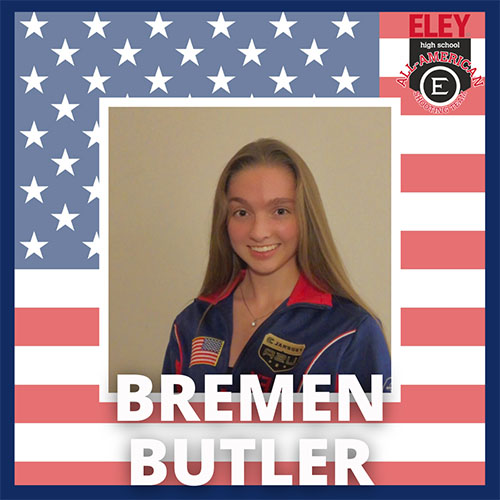 Bremen Butler
Air Rifle ELEY High School All American Team / Smallbore ELEY High School All American Team
Class 2023
Hometown:  Fort Wayne, IN
Highschool:  Indiana Connections Academy
Member of:  USA Shooting National Futures Team
"When and how did I begin shooting? Funny enough, I got into the sport because my brother had a crush on a girl. In flirting with her she said she was on a rifle team: my brother, an avid shooter all his life, was beyond intrigued. He joined the team, and my dad volunteered as an assistant coach for a while. Immediately I was intrigued by the 'cool older kids'. I wanted to go to the range just to hang out. I started shooting sports in 7th grade, and by my Freshman year, I moved to precision and started shooting both Air Rifle and Smallbore. 
I have been on several rifle teams the last two years. My official team is iShootConsulting and my coach is Jayme Shipley. I couldn't be prouder to be a part of this team, and couldn't be more thankful for Jayme's coaching. 
When I shoot in local matches, I sometimes shoot on the Bellmont High School Rifle Team.
I've had several great coaches and advisers over the years. First and foremost, my current coach Jayme Shipley is absolutely amazing. I still consider myself a beginner in so many parts of this sport, but I swear she just knows everything. I have and will continue to learn so much from her. I've also had opportunities to work with several other great coaches, Andrew "Goober" Werling, Matt Birch, Rich Johnson, and now Dan Durben (with my recent qualification onto the Junior futures team). 
I am also involved in my school's fashion textiles class. The program produces a fashion show each semester that is inspired, and run by the students. We partner with the culinary program to pair food with the show. I enjoy working with fabrics and fashion in my free time as well. 
One of my most recent accomplishments is qualifying to be on the USAS Junior Futures Team, and getting to travel to Lima, Peru for a Junior World Cup.
I've podiumed in my age group at Junior Olympics for both Air and Smallbore, so my next goal is to podium in the overall categories. I've also had the goal since second grade to earn scholarships to college. Now being part of several rifle programs, I am hopeful to get a rifle scholarship to be a part of a great college team."
Fun fact: "An interesting fact about me is that I turned 17 while on my first USAS trip to Lima, Peru."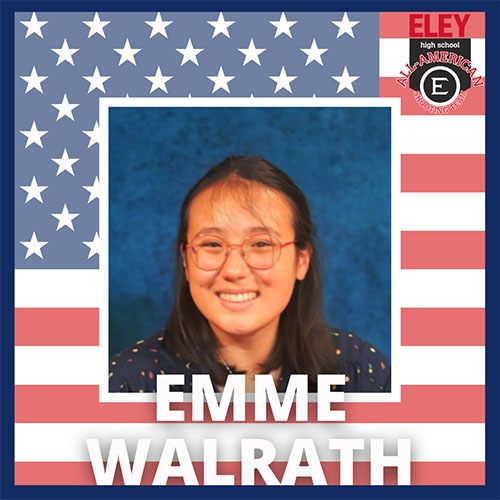 Emme Walrath
Air Rifle ELEY High School All American Team
Class: 2024
Hometown:  Kenosha, WI
Highschool:  Lakeview Technology Academy
Member of:  Southport Masters, Team Winning Solutions, Grand Rapids Rifle & Pistol
The sole freshman among the 2020-2021 EHSAA's, Emme began her shooting journey with pistol.  It didn't click for her.  But, finding rifle in the fall of 2017, fun lead to commitment and by 2020 she was competing in both smallbore and air rifle on a national level. 
Currently, Emme belongs to her local club, Southport Masters, Lucas Koziensky's program, TWS (Team Winning Solutions), and Grand Rapids Rifle and Pistol Club.  A product of many coaches, she is quick to highlight her local coach, Jon Speck, who has been with her since she first started the sport.  "He has brought me along so much, and still does so much to help me."  She also identifies Cameron Zwart, who exposed her to higher level competition as well as Lucas Kozeniesky, "who has definitely helped me out a bunch, especially in my mental game."
Emme's goals include competing in the NCAA's, representing the US in international competition and, eventually, making it to the Olympic stage.  
Passionate about gun rights, she is an ambassador of not only sport, but the 2nd Amendment. 
Emme is a tutor at school as well as a role model and peer coach for members of her junior shooting program. 
Fun fact: "I absolutely love anime.  Although I wish I had more time to extend my anime-knowledge."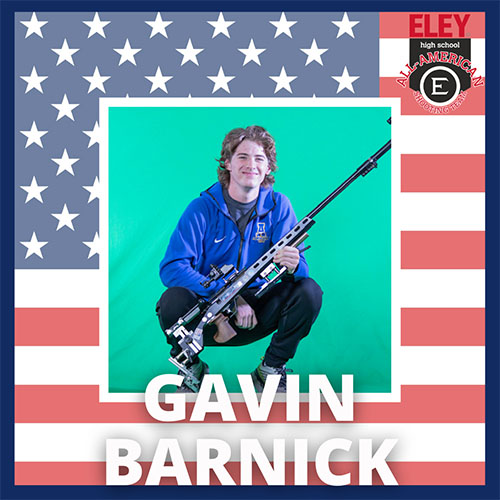 Gavin Barnick
Air Rifle ELEY High School All American Team / Smallbore ELEY High School All American Team
Class: 2021
Hometown:  Appleton, WI
Highschool: Out of the Barn High
Member of: USA Shooting National Futures Team
Colligate: currently a freshman on the University of Alaska Fairbanks Rifle Team
First encountering the shooting sports through 4-H at the age of nine, Gavin is a five-time EHSAA and now a member of the University of Alaska Fairbanks Rifle Team and the SAAC rifle representative for the university.
Though he has been in a position of prominence on the shooting scene and US Team member for the past couple of years, 2021 has been a breakout year with Gavin garnering the bronze medal in the smallbore event of the Junior World Championships as well as being a firing member of his collegiate team's NCAA smallbore national record performance.
In discussing the coaches who benefitted him the most, he said, "Jayme Shipley impacted me a lot and helped me get to college. My college coach, Will Anti, definitely helped push me and make me a better shooter."
Gavin's long-term shooting goal is to win an Olympic gold medal.
In his down time, he likes to fish, weld, hang out with friends and volunteer through the university.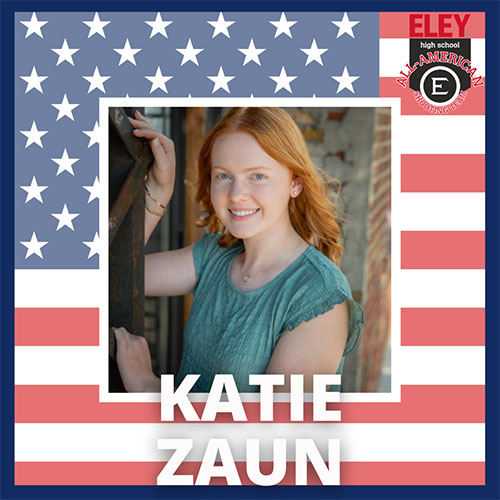 Katie Zaun
Air Rifle ELEY High School All American Team / Smallbore ELEY High School All American Team
Class: 2022
Hometown:  Buffalo, ND
Highschool:  Maple Valley High School
Member of: USA Shooting National Futures Team
Katie, a six time EHSAA, was this year's high shooter for both the smallbore and air rifle disciplines!  She will be rewarded for her outstanding shooting by having her rifle batch tested for a case of ELEY Tenex at our ELEY test center in Winters, TX. 
Beginning her shooting career at the age of 8, Katie credits her start to following in the footsteps of her older brother, who was the first to shoot competitively.  She is now the role model for her younger brother, who finds himself attending some of the same competitions as his big sister.   A member of a local community club in Buffalo, ND, she is coached by Dan Guerts who she says is "a huge part of my success.  He just knows everything there is about the fundamentals of shooting."  She is also a member of Team USA's National Futures Team and is most proud of her recent performance at the Junior World Cup in Peru, where she was a member of the gold medal 3-person women's team event. 
Well rounded, Katie is an avid volleyball player and member of her high school's varsity squad as well as a community volunteer through her school; helping with blood drives, food drives, or going into classrooms and teaching younger students about healthy habits.  She also volunteers at her church. Throughout the past few years, she has taught Sunday School to preschoolers, 2nd graders, 3-5th graders, and 7 graders.
Zaun, who recently signed with the Texas Christian University Rifle Team, will begin shooting in the NCAA's in the fall of 2022.
Fun Fact: Her high school has about 80 students – 9 to 12th grade. She is graduating with a class of only 13.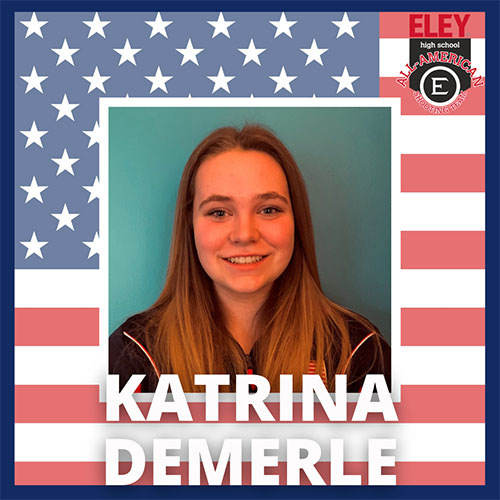 Katrina Demerle
Air Rifle ELEY High School All American Team / Smallbore ELEY High School All American Team
Class: 2023
Hometown: Hamilton, OH
Highschool: Ross High School
Member of: USA Shooting National Futures Team
Finding her start in air rifle at the tender age of 7, Katrina began competing at 10 and still shoots for the same junior program!  
Crediting US National Team Coach, Dan Durben and local coach, Jon Beyer, with having had the greatest impact on her shooting, she is most proud of winning gold in El Salvador and getting second place at the National Junior Olympics for Women's Air Rifle.  Her next shooting goals are winning a NCAA Championship in college and go on to the US Olympic Team.
On the weekends she enjoys sleeping, watching Netflix, and going out with friends.  She also volunteers at a local animal shelter in her spare time.
Fun facts: "I'm left-handed and have no siblings."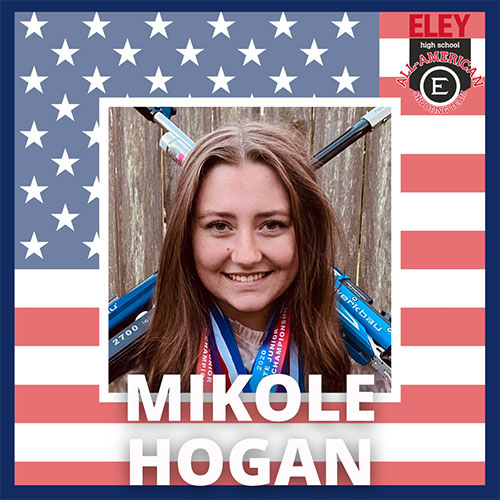 Mikole Hogan
Smallbore ELEY High School All American Team
Class: 2022
Hometown: Montgomery, TX
Highschool: Lake Creek High School
Member of:  Houston Hotshots
It all started in 2016 with a 4-H basic gun safety class for Mikole.  From there, she went on to her current
junior shooting program, The Houston Hotshots.
Crediting coach Keith Pruden for much of her success, she said, "he has taught me so many things that I would not be where I am today without him. Keith Pruden is the most amazing coach I could ever ask for, anytime I need him for something even if it is not shooting related, he is a phone call away. He is always there for me in any way possible."
Self-motivated, Mikole is most proud of having broken two national records in the summer of 2021 at CMP Nationals.  But, she is not about to rest on her laurels.  Recently signing with Texas Christian University, she intends to hone her skills at the NCAA level while making a push toward the Paris Olympics in 2024. 
When not on the range, Mikole can be found volunteering at church as much as time permits.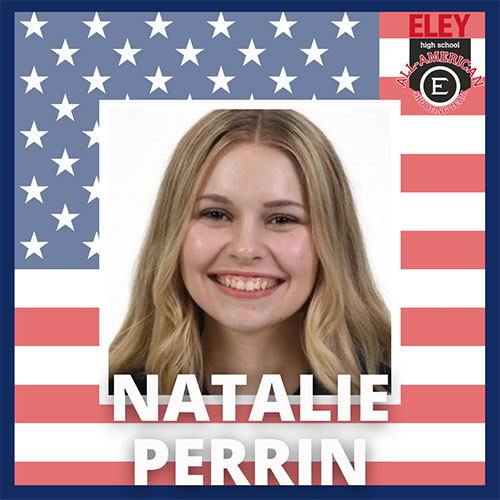 Natalie Perrin
Air Rifle ELEY High School All American Team / Smallbore ELEY High School All American Team
Class: 2021
Hometown:  Coopersville, MI
Highschool:  Coopersville High School
Member of:  USA Shooting National Futures Team
Colligate: Current freshman on the West Virginia University Rifle Team
Progressing through BB gun into precision rifle, Natalie began her shooting career in 2016, after seeing it at a county fair.
Initially coached by Ron Carr and Terry Dunn of the Grand Rapids Rifle and Pistol Club, she has also benefitted from the tutelage of Cameron Zwart, Tim Schmeltzer and Gerry Cooke. David Smith, a close family friend became her 'shooting dad' and coach for a while, and Olympian Lucas Kozeniesky continued to build on their input by increasing her passion for the sport and helping her get to the next level of competition.   
Natalie is currently a freshman on the West Virginia University Rifle Team and is most proud of being on the National Junior Team and the opportunities she has had to compete internationally.  Most recently, she excelled at the 2021 Junior World Championships.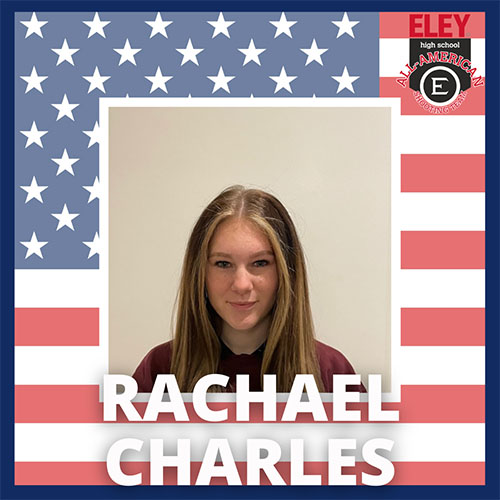 Rachael Charles
Air Rifle ELEY High School All American Team
Class: 2022
Hometown: Urbandale, IA
Highschool: Dowling Catholic High School
Member of:  USA Shooting National Futures Team
A newcomer to the EHSAA team, Rachael began shooting at the age of 12 after spotting a flyer inviting juniors to try precision shooting at a junior club in Billings, Montana.  Though currently unaffiliated with any local programs, she trains remotely with Team Winning Solutions and iShoot Consulting and is grateful to coaches Ali Weisz, Lucas Kozeniesky, and Jayme Shipley for their part in propelling her onto the US National Futures team and preparing her to compete at the Junior World Cup in Peru, where she represented the United States.
Having recently committed to the University of Alaska Fairbanks Rifle Team, she is excited to compete with them beginning the fall of 2022 and "hopes to win several NCAA Championships" as a member of that squad.   That experience will be a stepping stone to her key goal of competing on the National Team and representing the United States at World Cups and other international matches. 
Passionate about the climate crisis, Rachael is a volunteer at her local parish, as well as the Salvation Army. 
Fun fact: She has a fish named Spinach. 
Scott Rockett
Air Rifle ELEY High School All American Team / Smallbore ELEY High School All American Team
Class: 2021
Hometown:  Cary, NC
Highschool:  Crossroads Flex High School
Member of:  USA Shooting National Futures Team
Collegiate: current freshman on US Air Force Academy Rifle Team
A six-time EHSAA, Scott began his career as a 9-year-old at the Sir Walter Gun Club and he knew this was the sport he wanted to pursue from the first time he shot.  Crediting Bill Reynolds, Don Ridenour, and Lynn Wheelis for getting him started in shooting, teaching him the basics and giving him the tools to succeed, he points to Olympian, Lucas Kozenieski, for teaching him how to be a competitor.
Currently shooting for the United States Air Force Academy, Scott is passionate about helping others and watching them succeed.  This is the catalyst to his frequent participation in weekend volunteer opportunities through both the rifle team and his squadron, to benefit the Colorado Springs community. 
"Getting into the Air Force Academy is, in my opinion, my greatest accomplishment. A close second is the first bronze medal I won as a J3 at the junior Olympics. No matter the accomplishments in the future, the excitement I felt winning that was the driving factor for much of my shooting career."
Identifying his shooting goals as the pursuit of excellence and to become the best shooter he can be; his focus is on self-discipline and perfection on every shot.  "If this involves winning, that is a bonus."
Fun fact: Going to the red head festival in Ireland is on his bucket list.
ELEY high school All-American (Updated 04/21/2022)
From its inception, the ELEY High School All American Program was designed to recognize the most outstanding scholastic rifle athletes in the United States. Since 2016 we have done just that; highlighting the academic and athletic accomplishments of 53 Smallbore and air rifle athletes. Many of these shooters have gone on to NCAA honours, championships and, in Tokyo, we had two former EHSAA's, Mary Tucker (silver) and Will Shaner (gold) represent and medal!
There have been a few bumps along the way. Covid-19 threw us all a curveball and, with the cancellation of many matches, made it difficult to adhere to our original match requirements. We were able to adapt and continue to recognize our top athletes, but, the disparity of opportunities in air versus Smallbore become more and more apparent, and, we were deprived of the opportunity to present the EHSAA awards in a proper forum.
Just as ELEY has always striven to improve our products, we have, upon examination, come up with a slightly different structure going forward that we feel will create more opportunities to honour our top athletes as well as to recognize them in a fashion befitting their accomplishment.
Beginning the 2021-2022 school year, ELEY will accept nominations through August 15th in order to accommodate the summer National Championships. We will expand the list of approved matches to include any shoulder-to-shoulder competition of more than 40 athletes sponsored by any NCAA rifle program or USA Shooting recognized match scored electronically. This will give scholastic shooters an opportunity to include scores shot at Akron University's Zippy Open, Texas Christian University's Open Championships, West Virginia University's Mountaineer Open, West Point's Spring Junior Open, as well as Palmyra's Invitational, among others. Announcements of the EHSAA teams will be made in the early fall and awards will be presented at the following National Junior Olympics to ensure peer recognition.
ELEY hs All-American basic criteria and selection
ELEY will be the sole sponsor for the USA high school (hs) All-American program. The top ten averages in Small-bore Rifle and the top ten averages in International Air Rifle will be recognized as a hs All-American. The qualifying scores will be compiled from certain USA Shooting sanctioned matches and some CMP sanctioned air rifle matches. This list of matches will be published each year as some matches will change. This list is also subject to change throughout the year if matches are added to the calendar. You will need to fire a minimum number of matches from the eligible match list to qualify for hs All-American. An average will be calculated from the scores you submit, this will be a per shot average. Each hs All-American will receive a challenge coin and certificate of achievement. The top individual average in the small-bore and air rifle event will receive an ELEY tenex test and 2500 rounds of selected tenex from the ELEY test facility in Winters, TX.
basic criteria to be eligible for hs All-American includes:
The shooter must be an American Citizen.
The shooter must be a full-time high school student in the grades 9-12.
The student must hold a cumulative 3.0 GPA or higher, between grades 9-12.
The student must be taking courses that would grant him/her NCAA eligibility through the NCAA Clearinghouse.
The shooter must fire at least the minimum amount of national matches (3 scores in each event) published for the eligibility year (this number could vary depending on the number of USA Shooting and CMP matches available throughout the year) and 1 sanctioned USA Shooting 50 foot local matches, which must be shot on the USA/NRA 50 International Small-bore Rifle Target.
The proper paperwork and signatures must be submitted by the submission date for the eligibility year.
The hs shooter may only be an All-American in any given discipline for a maximum of four years.
2021-2022 eligible match list (will be updated as matches change or are added):
Dixie Double Air (2 matches) STANDING AIR ONLY/NO 3P Air
Winter Airgun,
Junior Olympic State Qualifier, Air and SB (1 match each)
Camp Perry Open, Air (2 matches) STANDING AIR ONLY/NO 3P Air, Smallbore (1 match)
Palmyra Invitational
Pardini Invitational
Zippy Open
TCU Open
Mountaineer Open
West Point Spring Junior Open
USA Shooting Nationals, Air and SB (2 matches each)
2021 CMP Monthly Matches, Air Only (1 match each month)
All ISSF World Cup Competitions only that lie before August 1, 2022 (MQS and Elimination rounds will NOT count)
NOTE: matches not listed above that are recognized by USAS, fired on electronic targets and include 40 or more shoulder-to-shoulder competitors will also be considered.
Submission of forms
A parent, coach or teacher may nominate a high school shooter to the hs All-American. The shooters themselves cannot be the one to sign the forms, however they can help fill them out.
The ELEY hs All-American Score Reporting form is the only form that must be completed, signed and turned in to Michele Medige at MicheleM@eleyammunition.com. This form can be filled out online, printed and mailed, or printed and scanned. All mailed forms should be mailed to:
ELEY Americas
5997 US Hwy 83
Winters, TX 79567
The last match of each eligibility year will be fired prior to the August 15th submission deadline. The hs All-American awardees will be announced in the fall and presented their awards at the USA Shooting National Junior Olympic Rifle Championship match of the following spring in order to optimize peer recognition. All forms must be completed, signed and received by August 15, 2022. Please do not leave any fields blank. If additional space is needed, please use an additional form. All scores fired from the eligible matches MUST be recorded.
Committee and contact info
If there should be any discrepancies in this process, there is a committee comprised of ELEY and USA Shooting Employees that will make all final decisions. Your scores will be double checked through the final match results of all eligible matches fired.
This program has been approved by the NCAA for eligibility reasons under the Division 1 rule number 16.1.1.1. Division 2 has no rule for a program like this as long as a student-athlete does not have an agent or sign a professional contract they are eligible to compete at an NCAA level. You can find the NCAA Division 1 manual at ncaapublications.com. The customer service contact number for the NCAA in the case there are any eligibility questions is (317) 917-6008.
2019-2020 ELEY High School All American Team