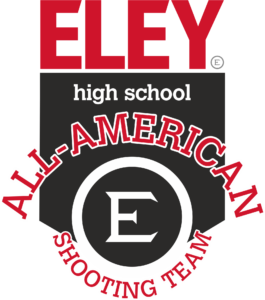 2019-2020 ELEY High School All American Team
ELEY high school All-American
ELEY hs All-American basic criteria and selection
Traditionally, the EHSAA recipients are presented their awards during the USA Shooting National Championships held in June.  Because USAS has moved this championship to a mid-October time frame, we will be extending our deadline for nominations to September 1st.  This will allow us to add the following matches which we will accept for smallbore scores:
CMP Open Smallbore 3-Position                                           Camp Perry, OH
ASSA National 3-Position Championships                           Bristol, IN
CMP National 3-Position Championships                            Camp Perry, OH
Those athletes attending the USANC will have their scores added to their nomination by ELEY staff.  Those who are selected as a EHSAA but are not in attendance will have their awards mailed to them at the home address given on the nomination form.
Nominees who represented the US in international competition for the US National Team should include their scores from those competitions.
ELEY will be the sole sponsor for the USA high school (hs) All-American program. The top ten averages in Small-bore Rifle and the top ten averages in International Air Rifle will be recognized as a hs All-American. The qualifying scores will be compiled from certain USA Shooting sanctioned matches and some CMP sanctioned air rifle matches. This list of matches will be published each year as some matches will change.  This list is also subject to change throughout the year if matches are added to the calendar. You will need to fire a minimum number of matches from the eligible match list to qualify for hs All-American. An average will be calculated from the scores you submit, this will be a per shot average. Each hs All-American will receive a numbered coin and certificate of achievement.  The top individual average in the small-bore event will receive an ELEY tenex test and 2500 rounds of selected tenex and the top individual average in the air rifle event will receive an ELEY ventus pellet test along with 2500 rounds of selected ventus pellets (or a comparable prize) from the ELEY test facility in Winters, TX.​
basic criteria to be eligible for hs All-American includes:
The shooter must be an American Citizen.
The shooter must be a full-time high school student in the grades 9-12.
The student must hold a cumulative 3.0 GPA or higher, between grades 9-12.
The student must be taking courses that would grant him/her NCAA eligibility through the NCAA Clearinghouse.
The shooter must fire at least the minimum amount of national matches (3 scores in each event) published for the eligibility year (this number could vary depending on the number of USA Shooting and CMP matches available throughout the year) and 1 sanctioned USA Shooting 50 foot local matches, which must be shot on the USA/NRA 50 International Small-bore Rifle Target.
The proper paperwork and signatures must be submitted by the submission date for the eligibility year.
The hs shooter may only be an All-American in any given discipline for a maximum of four years.​
2020-2021 eligible match list (will be updated as matches change or are added):
2020 Dixie Double (Nov), Air (2 matches) STANDING AIR ONLY/NO 3P Air
2020 Winter Airgun, Air Rifle (Dec), Air Only (2 matches)
2021 Junior Olympic State Qualifier, Air and SB (1 match each)
2021 Camp Perry Open, Air (2 matches) STANDING AIR ONLY/NO 3P Air, Smallbore (1 match)
2021 USAMU National Junior Air Rifle Championships, Air 2 matches and SB 1 match
2021 Smallbore Rifle, Olympic Trails Part 2 (May), SB (2 matches)
2021 National Junior Olympics, Air and SB (2 matches each)
2021 USA Shooting Nationals, Air and SB (2 matches each)
2021 CMP Monthly Matches, Air Only (1 match each month)
2021 CMP 3P Smallbore Regional Championships
All ISSF World Cup Competitions only that lie before May 31, 2021 (MQS and Elimination rounds will NOT count)
Submission of forms
A parent, coach or teacher may nominate a high school shooter to the hs All-American. The shooters themselves cannot be the one to sign the forms, however they can help fill them out.
The ELEY hs All-American Score Reporting form is the only form that must be completed, signed and turned into Michele Makucevich at MicheleM@eleyammunition.com. This form can be filled out online, printed and mailed, or printed and scanned. All mailed forms should be mailed to:​
ELEY Americas
5997 US Hwy 83
Winters, TX 79567​
The last match of each eligibility year will be USA Shooting Nationals. The hs All-American nominees will be presented at the USA Shooting Nationals match for the current year. All forms must be completed, signed and received by May 31, 2021. If you will be competing at USA Shooting Nationals those scores will be recorded by ELEY and will be calculated into your average. Please do not leave any fields blank. If additional space is needed please use an additional form. All scores fired from the eligible matches MUST be recorded.​
Committee and contact info
If there should be any discrepancies in this process there is a committee comprised of ELEY and USA Shooting Employees that will make all final decisions. Your scores will be double checked through the final match results of all eligible matches fired.
This program has been approved by the NCAA for eligibility reasons under the Division 1 rule number 16.1.1.1. Division 2 has no rule for a program like this as long as a student-athlete does not have an agent or sign a professional contract they are eligible to compete at an NCAA level. You can find the NCAA Division 1 manual at ncaapublications.com. The customer service contact number for the NCAA in the case there are any eligibility questions is (317) 917-6008.​
Click on an image to enlarge…